Top 10 Best Fruits When Dieting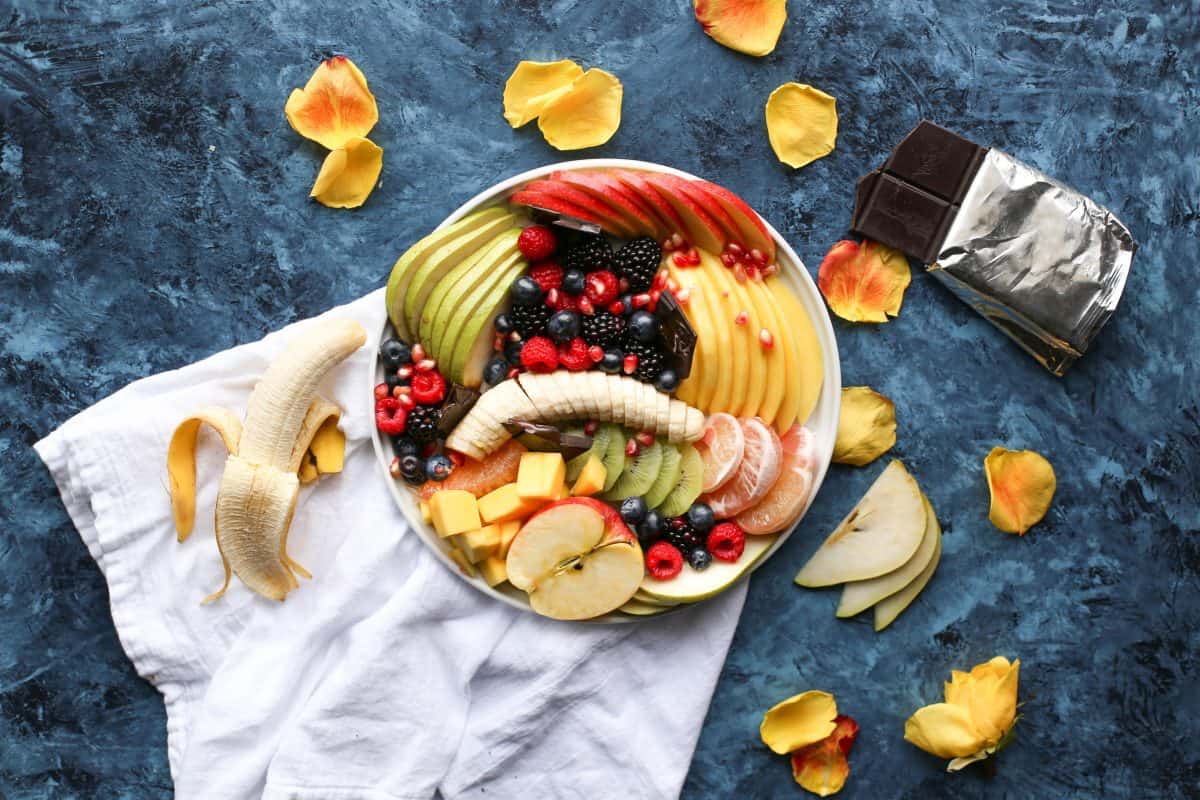 Eating fruits and veggies have always been linked to a lot of health benefits, such as their ability to reduce risk in developing chronic diseases and manage body weight. The World Health Organization, also known as WHO, and the Food and Agriculture of the United Nation suggest adults eat at least five servings of vegetables (with the exclusion of starchy vegetables) and fruits every day (1).
Fruits have been a widely recognized source of vitamins and minerals. They play an important role in replenishing vitamins in the body, most especially the vitamins A and C. In North America and the United Kingdom, vitamin C deficiency is experienced by one in five men and one in nine women (2). This data is from progressive countries alone, so just imagine what the rate of vitamin C deficiency in third-world countries would be like. Vitamin deficiencies are quite common, but something as simple as eating fruits can remedy that.
How Does Eating Fruit Provide Health Benefits?
The answer lies in the nutrients found in fruits. With the number of flavonoids, minerals, antioxidants, phytochemicals, vitamins, and macronutrients available in fruits, there should not be any surprise on how these can help the body maintain its tip-top shape. Most diseases develop due to the lack of vitamins and minerals of an individual. If you are getting enough, then your chances of getting sick are slim to none.
What Benefits Can You Reap From Eating Fruits Daily?
A lot! Numerous studies have been conducted to support the fact that fruits are nutritious and not just delicious.
Incorporating fruits in your diet can lower the odds of encountering stroke, cardiovascular diseases, and diabetes when you get older.
Cancer is an untreatable disease and one that not any of us will want to get entangled with. Adding fruit to your diet may help you stay protected from some cancers. In fact, one study concluded that vegetable intake alone did not have any significant impact on the survival rate of those with breast cancer. However, it showed that consistent intake of fruits might have a small positive effect on those afflicted with diseases (3).
The phytochemicals found in fruits can substantially help you in giving your diet the much-needed health boost. Unfortunately, the mechanisms of how most of them are able to do that remain unknown (1).
The dietary fiber found in most fruits improves the flow of the digestive tract and ensures that the processes involved will go smoothly. Thus, lowering the chances of diverticulosis and constipation from occurring. But that is not all dietary fiber can do for you. If you increase your intake of dietary fiber by up to 8 grams daily, the risk of having diabetes mellitus type 2, coronary heart disease, and colorectal cancer decreases by about 5 to 27 percent. Consumption of 25grams to 29 grams of dietary fiber every day is the ideal amount to keep yourself protected (4).
Some fruits can help aid in keeping the bone healthy by improving bone density. This is very characteristic of fruits rich in vitamin K and calcium. One study incorporated fruits, vegetables, and herbs in their subject's eating pattern and it seems to have an effect on the metabolic, inflammatory, and bone aspects of health (5).
Fruits rich in potassium can lower your risk of developing heart disease or having a stroke. This same nutrient can lower the chances of getting kidney stones and suffering from decreased bone density as you get older.
The antioxidants, vitamins, and minerals in fruits can nourish the skin and keep it looking supple and moisturized. The nutrients can fight off free radicals, so you can maintain your radiant skin for years to come. According to one study, including fruits and vegetables in your diet is the safest way to have a youthful glow, instead of taking high doses of non-physiological isolated antioxidants (6). Fruits are not only for aging skin. You might be able to shun medical-grade ointments and creams for your acne if you eat your fair share of fruits. Sometimes, acne can be a cause of gut problems. If you eat fruits that contain pectin, you will no longer need to deal with constipation. Some fruits have cleansing and skin rejuvenating properties that can make your acne go away, as well.
Fruits can also be good for your hair. If your hair is lacking in luster, vitamin A-rich foods can help you. Citrus fruits can also stimulate hair. If you have been suffering from hair loss or grey hair, loading up on fruits when your stomach is empty seem to help.
Fruit consumption showed an inverse relationship with body weight, while vegetable consumption showed no effect. Increase in fruit intake was tied up with eventual weight loss and has distinctive contributions in the management of body weight (7). It will not take long to notice the change in your weight and overall physique once you start eating fruits frequently. This simple change in diet will help you control your weight, but hitting the gym regularly is still a must.
Fruits fill you up in time for the next meal, so you become less tempted to snack badly. Satiation and satiety being when the food is consumed and carry on as it proceeds to the digestive tract (8). Fiber enriched fruits can keep you satiated for a long time. Also, the sweetness of some fruits make them ideal desserts and putting an end to those chocolate cravings.
Fruits are almost 90 to 95 percent water. Aside from packing only a few calories, they also impart a diuretic or laxative effect. Waste products and toxins are easily flushed out from your system, leaving your gut clean and keeping those pounds at bay.
Weight loss seems to be a challenging feat for a lot of people, so it is refreshing to realize that something as easy as increasing your fruit intake can be done to speed up the process. Before heading to the grocery and stocking up on various fruits, you might want to read the rest of the article. Below are some of the best fruits that can lead to weight loss.
10 Best Fruits You Should Take When Dieting
Whole Fruit or Fruit Juice?
A study conducted for 12 weeks showed that the group who consumed fresh grapefruit lost 1.6 kg, while those who took grapefruit juice shed 1.5 kg (34). Apples can control appetite and curb hunger when eaten whole, instead of juiced (35).
Eating the fruit seems to be the perfect way to ensure that you consume all the vitamins and minerals found in it. Taking it in the form of juice is not so bad. Although you must make sure that the fruit juice is made of 100% of the fruit and comes without any additives.
Take-Home Message
Instead of investing your money on several weight loss products, try enjoying the benefits of eating fresh fruits or juicing them up! Fruits have different ways of facilitating weight loss. Try eating a variety of them for good measure. If you end up not losing weight, at least you have given your body a regular healthy dose of nutrients.
References:
(1) //www.ncbi.nlm.nih.gov/pmc/articles/PMC4644575/
(2) //www.ncbi.nlm.nih.gov/pmc/articles/PMC3232233/
(3) //www.ncbi.nlm.nih.gov/pmc/articles/PMC5428797/
(4) //www.sciencedaily.com/releases/2019/01/190110184737.htm
(5) //www.ncbi.nlm.nih.gov/pmc/articles/PMC3552690/
(6) //www.ncbi.nlm.nih.gov/pmc/articles/PMC3583891/
(7) //www.ncbi.nlm.nih.gov/pubmed/20022464
(8) //onlinelibrary.wiley.com/doi/full/10.1111/j.1467-3010.2009.01753.x
(9) //ndb.nal.usda.gov/ndb/
(10) //www.ncbi.nlm.nih.gov/pubmed/7498104
(11) //www.ncbi.nlm.nih.gov/pubmed/18439712
(12) //www.ncbi.nlm.nih.gov/pubmed/29630462
(13) //www.sciencedaily.com/releases/2009/04/090419170112.htm
(14) //www.ncbi.nlm.nih.gov/pubmed/12672916
(15) //www.ncbi.nlm.nih.gov/pubmed/27041291
(16) //www.ncbi.nlm.nih.gov/pubmed/24787494
(17) //www.medicalnewstoday.com/articles/325161.php
(18) //www.ncbi.nlm.nih.gov/pubmed/21288350
(19) //www.metabolismjournal.com/article/S0026-0495%2811%2900413-6/abstract
(20) //www.ncbi.nlm.nih.gov/pubmed/23394981
(21) //www.ncbi.nlm.nih.gov/pubmed/29470689
(22) //www.ncbi.nlm.nih.gov/pubmed/23746068
(23) //www.ncbi.nlm.nih.gov/pubmed/23394983/
(24) //www.ncbi.nlm.nih.gov/pubmed/29470689
(25) //www.ncbi.nlm.nih.gov/pmc/articles/PMC6073249/
(26) //www.ncbi.nlm.nih.gov/pmc/articles/PMC6073280/
(27) //www.ncbi.nlm.nih.gov/pmc/articles/PMC5707667/
(28) //www.ncbi.nlm.nih.gov/pubmed/26374292
(29) //www.ncbi.nlm.nih.gov/pubmed/28640214
(30) //www.ncbi.nlm.nih.gov/pubmed/21147704
(31) //www.ncbi.nlm.nih.gov/pubmed/21115081
(32) //www.ncbi.nlm.nih.gov/pmc/articles/PMC5691758/
(33) //www.glycemicindex.com/index.php
(34) //www.ncbi.nlm.nih.gov/pubmed/16579728
(35) //www.ncbi.nlm.nih.gov/pubmed/19248858